Discover our New ELIM Pedicure: Step in for Luxurious Foot Care!
---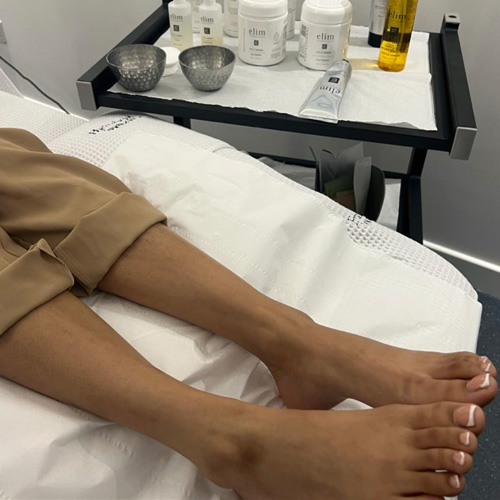 10 August 2023
Are your feet craving some TLC? If so, we have exciting news to share!
YuuBeauty is thrilled to introduce the latest addition to our pampering services: the ELIM Pedicure. This cutting-edge treatment is designed to provide your feet with the ultimate care and rejuvenation, leaving you feeling relaxed and ready to conquer the world.

Read on for everything you need to know about this fabulous new pedicure experience.
What is our new ELIM Pedicure?
ELIM Pedicure is a revolutionary medical-grade foot care treatment that takes your standard pedicure to the next level... Combining the best of both traditional and modern pedicure practices, and using state-of-the-art ingredients, ELIM Pedicure takes the best bits of a facial and applies them to your feet! What's not to love?!
What to Expect: The ELIM Pedicure Process
Step 1: Chemical peel and Nail Clipping
ELIM callus peel is applied to problem areas (usually the heels or balls of your feet), and while this is working, we ensure your nails are perfectly shaped.
Step 2: Exfoliation
Gentle exfoliation with special ELIM products removes dead skin cells and calluses, revealing your smooth and radiant skin underneath.
Step 3: Nourishing Foot Mask
A nourishing foot mask enriched with essential vitamins and minerals, including volcanic ash clay, honey, ginger, vitamin F and E deeply hydrates your skin, revitalising even the driest and most neglected areas of your feet.

Step 4: Relaxing Spa Soak
We soak your feet in a basin of warm, aromatic water, infused with antibacterial and anti-fungal ingredients, to clean and hydrate. The tea tree and rosemary infusion help boost circulation and rejuvenate your feet.
Step 5: Cuticle Care and Nail Shaping
Of course, no pedicure is complete without impeccable nail care. The ELIM Pedicure ensures that your nails are perfectly shaped, your cuticles are gently pushed back, and any rough edges are meticulously smoothed.
Step 6: Therapeutic Massage
Prepare to be transported into a state of bliss with a therapeutic foot massage using Elim Foot Perfector! Our skilled therapists will work their massage magic, releasing tension in your feet and stimulating blood circulation, leaving your feet feeling light and refreshed.
Step 7: Nail Polish or Gel Polish
Choose from a wide range of our premium nail polish/get bottle colours to give your toes the finishing touch they deserve. Our skilled nail technicians will apply your polish/gel with precision, creating a flawless and long-lasting result.
ELIM Pedicure Benefits
The ELIM Pedicure is more than just a beauty treatment; it offers numerous health benefits too:

Improved Circulation: The foot massage stimulates blood flow, enhancing circulation throughout your lower limbs.

Stress Reduction: The soothing foot soak and massage help alleviate stress and promote relaxation.

Enhanced Foot Health: The removal of dead skin and calluses prevents foot problems and keeps your skin healthy.

Hydration: The nourishing foot mask locks in moisture, preventing dryness and cracking.

Boosted Confidence: With beautifully groomed and polished toes, you'll feel more confident and ready to show off your feet!

How often should I have an ELIM Pedicure?
The ELIM Pedicure is so effective that you will see results after just one treatment, but we suggest every 3 weeks is ideal to maintain happy, healthy, beautiful feet!

At Yuu Beauty, our mission is to make you look and feel your best. Indulge in this luxurious treatment with our award-winning therapists, to revitalise your feet, enhance your wellbeing, and boost your confidence.
Book your ELIM Pedicure and you'll leave the salon feeling like you're walking on clouds!
Alternatively, if you have any questions, contact us via our general enquiry form.
Back
Featured
in




Fancy 10% Off?
Join our mailing list and get 10% off products, plus you'll get all our latest news, offers and tips so you never miss out.
Sign up to our newsletter today.