Laser Hair Removal is all the rage... but does it really work?
---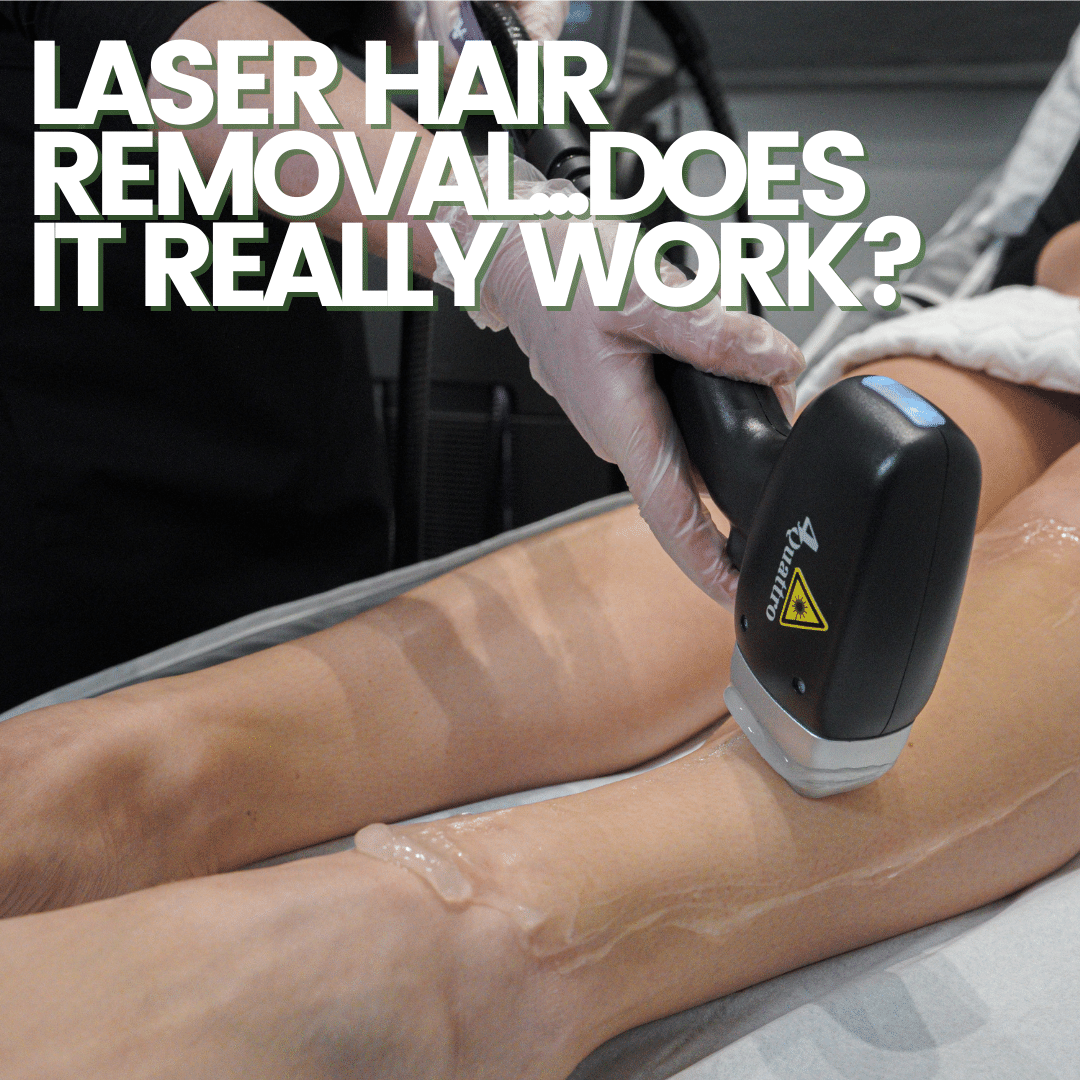 15 January 2022
If like us, you toss and turn between putting the razor down for good, then you have come to the right place. Maybe you are unsure of how good other methods of hair removal are, or maybe you are considering more permanent hair removal options but are unsure if they really work. The scepticism is understandable; it's hard to comprehend never shaving again, or to imagine a life with no painful monthly wax appointments. Over a lifetime, the pennies spent stack up and then we find ourselves here, wondering...does Laser Hair Removal really work?
So, How Does Laser Hair Removal Work?
Essentially, the laser beams intense light that targets the hair follicle and kills it, resulting in no regrowth. It uses the pigment in the hair follicle as the target. In the past laser hair removal worked better on those with dark hair and lighter skin as lasers were not sophisticated enough to distinguish the difference in pigment between dark hair and dark skin, potentially causing blistering, or dark/light spots around the area. Thankfully due to new technology & inclusivity, there are advanced lasers out there now, like our Soprano Titanium that combine three wavelengths of laser, Diode Laser Alex 755 nm, Speed 810 & Diode Laser YAG 1064 which is ideal for darker skin types.
DOES IT REALLY WORK?
In short, YES. We've seen it with our own eyes. Get more information about our Soprano Titanium here.
The Pros and Cons of Laser Hair Removal
Let's start with the pros of getting Laser Hair Removal:
Save money long term - eliminate the cost of a lifetime worth of razors & wax appointments.
Boost your confidence/solve possible insecurity (no more worrying if your moustache is visible)
You will always be bikini-ready, or just ready to get naked
Eliminate the time-consuming, tedious task of shaving - goodbye ingrown hairs!
The Con's:
Depending on how many area's you want to be treated, it can be costly
Laser Hair Removal requires a long term commitment of 6–8 months
Can only shave between Laser sessions (waxing & plucking will negatively impact your results)
You will most likely have to get maintenance sessions to top up & zap any new growth.
We have considered the cons for you, that is why we offer interest-free finance, where you can split the payments over 3–6 months. We also offer up to 20% OFF courses of Soprano Titanium through our Beauty Club Memberships. We offer courses of 8 sessions, if you find you have no hair regrowth after 6 sessions, you can keep your extra sessions on your account and use them to top up as and when you need to.
RISKS OF LASER HAIR REMOVAL ON DARK SKIN
For deeper skin tones, it wouldn't be the best idea to go for Intense Pulsed Light Therapy (IPL) to remove unwanted hair as you are at a higher risk of causing permanent hyper or hypopigmentation to the surrounding skin. IPL could inadvertently hit the pigment in the skin & destroy it.
Over the coming years, technology has improved and continues to do so, meaning getting laser hair removal for darker skin tones is possible. When enquiring, describe your skin tone and hair colour to the salon so they can determine if their laser would be suitable for you. As we mentioned earlier, some lasers work best on dark hair and light skin, however, OUR laser has a Diode & ND: YAG laser, which was created to give great results to those with light hair or dark skin. This laser also means those who have recently tanned can still get their laser sessions, machines without this type of laser mean you have to wait a minimum of 2 weeks before and after being in the sun to get your session. We always perform a patch test before any treatment to be safe & determine effectiveness.
How to prepare for Laser Hair Removal
Shave the area the day before or morning of your appointment - this is crucial, not shaving means the treatment will be painful & could eat into your treatment time if you plan on doing this at your appointment.
Avoid the use of fake tan, try to remove it before your appointment
If you are getting your underarms treated, avoid putting on deodorant before your appointment.
Don't apply too many products onto your skin the day of your appointment, particularly retinoids as your skin will be sensitive after your treatment.
Be honest about any medications you take to avoid adverse effects.
Soprano Titanium is virtually pain-free. It has a cooling system built into the laser head, however, depending on how large the area is, you may feel a small zapping pain towards the end of the session.
Check out our Q&A with Lynsey, our Soprano Titanium Certified Specialist who answers a few commonly asked questions regarding Laser Hair Removal at Yuu beauty.
Want laser hair removal in Edinburgh? Our Price List is here, & you can book your Soprano Titanium Consultation Online!
Back
Featured
in




Fancy 10% Off?
Join our mailing list and get 10% off products, plus you'll get all our latest news, offers and tips so you never miss out.
Sign up to our newsletter today.