Mother's Day Skincare Essentials
---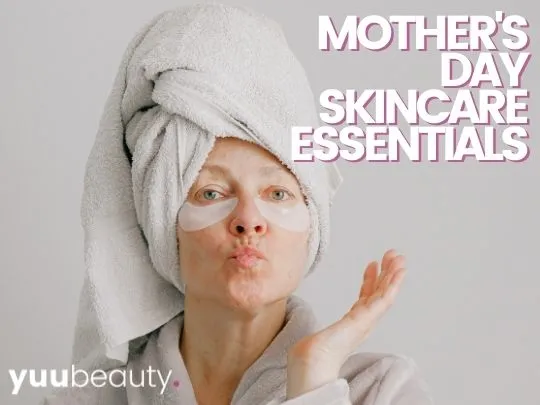 01 March 2022
We get it, it's right around the corner. You're maybe flustered, wondering what to get a woman that perhaps has it all? This Mothers Day we have something for every kind of Mother, something that will show her you really care. We've curated our Top 5 Essential Products to gift your mother this Mother's Day, as well as our Top 5 Essential Treatments to care for her skincare needs.
Top 5 Products she MUST have in her cabinet:
MARCH OFFER: 10% OFF ALL Dermalogica Range*
DermaQuest Essential B5 Hydrating Serum (RRP £68)
If you're a regular at the salon, you've definitely heard us harping on about this product, but truly we can't get enough! Packed with 50% Hyaluronic Acid (basically a water magnet), it delivers immediate, long-lasting hydration. What's great about this product is you can layer it, pop it on after a cleanse and layer with additional serums & moisturisers.
Stem Cell Rebuilding Complex (RRP £69)
This serum targets compromised, fragile and maturing skin by repairing the epidermis, restoring hydration and stimulating collagen production. The perfect anti-ageing tool.
Skin Resurfacing Cleanser (RRP £45)
Part of the age smart collection and our Senior Therapist Erika's holy grail product from the Dermalogica Range. Working as a two in one cleanser and exfoliator, it retextures ageing skin. The Lactic Acid concentrate accelerates skin cell turnover, removing surface debris and dead skin.
DermaQuest Eyebrite (RRP £57)
It's true, the skin around our eyes is delicate and needs TLC just like the rest of your face. Eyebrite has a blend of madonna lily plant stem cells, antioxidants, amino acids and vitamin c, a perfect combo that rids the signs of ageing, reducing dark circles and puffiness.
Age Defence Kit (RRP £81)
Packed with DermaQuest essentials to reduce fine lines and wrinkles, encourage collagen production and improve skin texture and tone, leaving the skin nourished and protected. Includes:
Peptide Glyco Cleanser (2 fl oz / 59.1 ml)
Essential B5 Hydrating Serum (0.5 fl oz / 14.8 ml)
Nourishing peptide rich (1 fl oz / 29.6 ml)
Sunarmor spf50 (1 oz / 28.3 g)
Top 5 Treatments to Wind Back The Clock and Relax:
MARCH OFFER: Pro Power Peel 30 ONLY £45 (RRP 60)*
Dermalogica Age Smart Facial (RRP £65)
Our ultimate 70-minute treatment includes an in-depth action plan to target signs of ageing. Includes all the benefits from the Pro Skin 60 facial, with added relaxation. Enhance this facial with our BT Nano heads or LED Light Therapy Mask.
CACI Eye Revive (RRP £40 or £350 for Course of 10)
The CACI Eye Revive will work to lift and firm the muscles around the eye area, particularly where people tend to lose definition as they age, known as 'hooded eyes'. This treatment will also help smooth the appearance of fine lines and wrinkles.
Dermapen Face & Neck (RRP £145 or 3 for £375)
Very popular due to its amazing results even just after one session, Dermapen is a micro skin needling treatment, increasing skins collagen production. The results are more extraordinary, longer-lasting and treatment time is faster, making this a top choice for anyone looking to achieve younger and smoother skin.
Pro Power Peel 30 (RRP £60, MARCH OFFER £45)
Redefining the peel experience, this is Dermalogica's strongest and fastest peel yet, but don't let that scare you. With a unique system of three different acids for a deep exfoliation, personalised to her. Ideal for targeting fine lines & wrinkles, pigmentation and breakouts.
Re-Awakening Facial (RRP £85)
Embrace the power of this oxygenating, nourishing and deeply hydrating treatment to remind her skin what it's been missing. Including BT Nano Heads to enhance the cleanse and product penetration, followed by a near-infrared L.E.D Light Therapy Mask to reduce fine lines and wrinkles. This facial will re-awaken her skin, making sure she is radiating a healthy glow this spring. Looking her very best ready to see all those faces that she's been missing.
Have you heard of our Beauty Club?
Why not give Mum something to look forward to with one of our Salon Memberships. They are a means of encouragement to engage in a consistent & regular Beauty/Self Care routine that will help her maintain a polished appearance, target a pressing skin concern or reduce her stress levels, but most importantly it gives her something to look forward to!
More info HERE
*Offers End 31.03.22, Beauty Club Credit cannot be used in conjunction with these offers.
Back
Featured
in




Fancy 10% Off?
Join our mailing list and get 10% off products, plus you'll get all our latest news, offers and tips so you never miss out.
Sign up to our newsletter today.