What is Soprano Titanium Laser Hair Removal?
---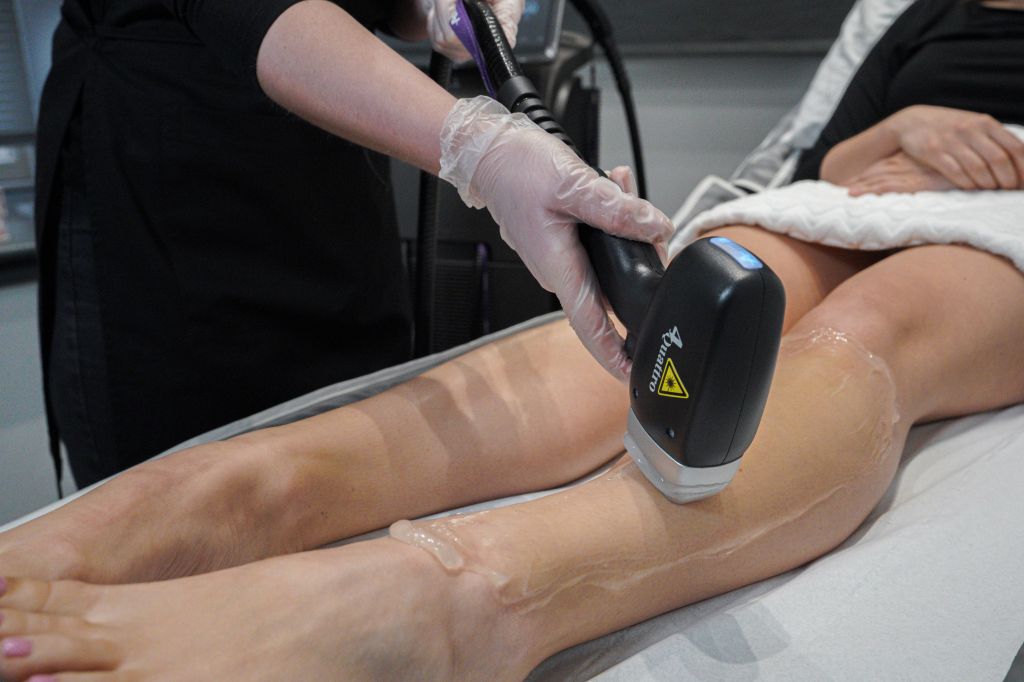 29 June 2023
Are you tired of the endless cycle of waxing, shaving, and creams, only to be left with temporary results and skin irritation?
Say goodbye to these outdated methods and say hello to Soprano Titanium Laser Hair Removal - the cutting-edge solution for achieving long-lasting, silky-smooth skin.

Here's everything you need to know to embrace the freedom of smooth, hair-free skin – whatever your complexion...

1. Effortless and Long-Lasting Results
One of the most enticing benefits of Soprano Titanium Laser Hair Removal is the incredible longevity of the results. Unlike waxing, shaving, or using hair removal creams, which provide temporary relief, Soprano Titanium laser technology targets hair at the root, ensuring hair reduction that lasts for months or even years.
2. Virtually Pain-Free Experience
Gone are the days of enduring painful waxing sessions or dealing with nicks and cuts from shaving - Soprano Titanium Laser Hair Removal offers a virtually pain-free experience. This innovative technology uses a unique cooling mechanism to ensure your comfort during the treatment, so you can bid farewell to discomfort and hello to a relaxing and painless hair removal process!
3. Safe and Suitable for All Skin Types

Soprano Titanium Laser Hair Removal caters to both women and men with diverse skin types. Unlike traditional laser hair removal methods that may not be suitable for individuals with darker skin tones, Soprano Titanium's advanced technology is designed to target unwanted hair safely and effectively on a wide range of skin types.

4. Versatile Treatment Areas
From head to toe, Soprano Titanium Laser Hair Removal can address unwanted hair on virtually any part of your body. Whether it's your underarms, legs, bikini line, face, or back, this advanced technology can precisely target and remove hair from even the most delicate areas. Why not book an initial consultation with our skincare specialist to discuss your requirements privately?

5. Time-Saving and Cost-Effective
Laser hair removal not only saves you time but is also cost-effective in the long run. Imagine the hours you'll reclaim by eliminating the need for daily shaving or monthly salon waxing appointments! With Soprano Titanium Laser Hair Removal, you invest in a solution that reduces hair growth over time, leading to fewer treatment sessions and ultimately saving you both time and money...

How Soprano Titanium Laser Hair Removal Works
Soprano Titanium Laser Hair Removal utilises cutting-edge diode laser technology to target the pigment in the hair follicles. The laser's gentle heat energy effectively disables the hair follicles, preventing future growth without damaging the surrounding skin. This gradual and precise approach ensures optimal results and maximum safety, giving you peace of mind throughout the process.
Frequency and Maintenance
The frequency of Soprano Titanium Laser Hair Removal sessions depends on various factors, including the targeted area and your hair growth cycle, which we will discuss with you in your Initial Consultation.
Typically, multiple sessions are recommended to achieve optimal results, as hair grows in different stages, depending on the area you're targeting. After completing the initial treatment plan, occasional maintenance sessions may be necessary to sustain your desired level of hair reduction.
Next steps
Embrace effortless and long-lasting results, virtually pain-free sessions, and a safe, inclusive approach suitable for all skin types. By investing in Soprano Titanium Laser Hair Removal, you'll be unlocking a new chapter of flawless, hair-free skin!
Take a look at our Q&A videos at the bottom of the Soprano Titanium Laser Hair Removal section, for more about what to expect.
At Yuu Beauty, our mission is to make you look and feel your best.
Book your FREE Soprano Titanium Laser Hair Removal consultation at our Edinburgh-based salon and start your journey to smooth, hair-free skin.
Alternatively, if you have any questions, contact us via our general enquiry form.


Back
Featured
in




Fancy 10% Off?
Join our mailing list and get 10% off products, plus you'll get all our latest news, offers and tips so you never miss out.
Sign up to our newsletter today.