What's The Difference Between Laser Hair Removal and IPL (Intense Pulse Light) Treatment?
---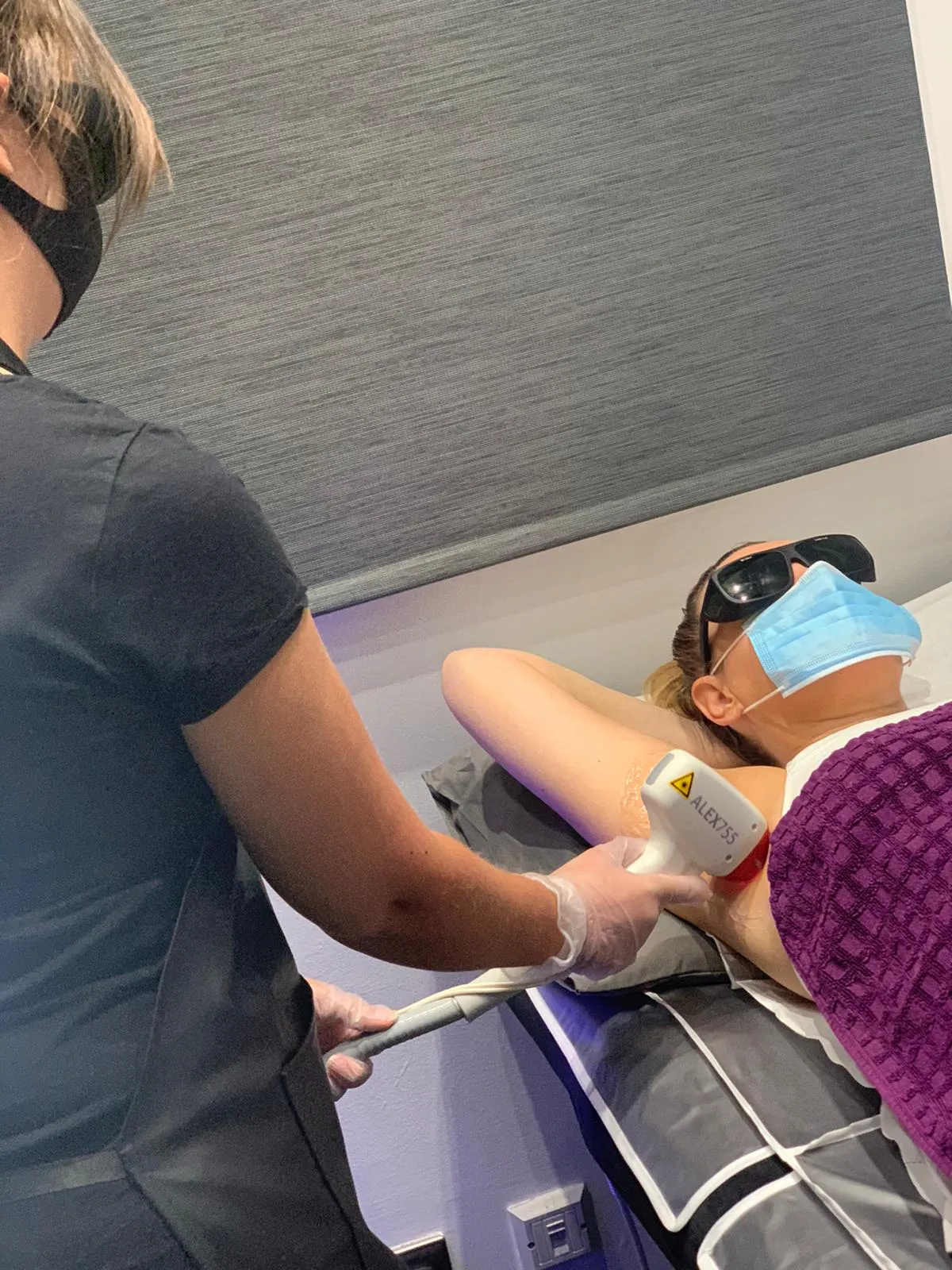 01 December 2022
Getting laser hair removal is a popular choice of treatment to remove unwanted hairs – and with advancements in technology, there are now even more options to choose from.
As the long-standing debate between laser hair removal and IPL (intense pulse light therapy) continues to be a topic of conversation within the beauty industry, we've put together an article to help you decide which is best for you.
So, how do the two treatments work? Let's start with what they are
What laser hair removal and IPL are
Both laser hair removal and IPL target the hair follicles from the root using light therapy. Over time, the treatment slows and reduces new hair growth, resulting in smooth, hair-free skin for longer.
The treatments offer an effective alternative to the traditional methods of hair removal, and provide a smooth finish to the skin, without irritation, dryness, or a stubbly texture that can be caused by a razor.
How is laser hair removal different to IPL?
The difference between laser and IPL ultimately comes down to the type of light used.
To get into the technicalities, laser machines use monochromatic, non-divergent lights to target specific concerns and areas. Whereas IPL produces a broader spectrum of white light, and releases light in fewer, but shorter bursts.
Which treatment is more effective?
Whilst both treatments are effective at removing unwanted hair, IPL tends to provide greater distribution and coverage, and can 'zap' more hairs at one time.
Laser on the other hand, offers greater intensity at targeting the bottom of the root to take the hair follicle out. So if you're looking to treat a precise, but particularly stubborn area of unwanted hair, laser hair removal will be your go-to. And if you're looking for wider coverage, IPL will be more suitable.
Effectiveness will also come down to the type of complexion you have - As laser removal tends to work better for dark, coarse hair, and IPL for fine fairer hair.
Do the results last as long?
The effects of IPL last for around 6 months, so for continued results, you'll need to have top-up sessions.
With laser hair removal, the risk of re-growth is lower, but it requires several treatments to run its course. This is why the cost of laser hair removal is more expensive than IPL.
So in conclusion, choosing which one to get depends on your budget, your hair type, and the type of longevity you're looking for.
Is one safer than the other?
Nope. Both treatments are FDA approved and are as safe as each other! As with any new treatment though, you will need to have a consultation and a patch test before any treatment can start.
Thinking about hair removal?
We offer a range of hair removal treatments including laser and IPL. Book a consultation with one of our experts or if you're not quite ready yet, give us a call on 0131 381 8354 and we can help you choose.
We look forward to seeing you soon!
Back
Featured
in




Fancy 10% Off?
Join our mailing list and get 10% off products, plus you'll get all our latest news, offers and tips so you never miss out.
Sign up to our newsletter today.